Mining Weekly: Spotlight on Cables - Delivering power and control to critical infrastructure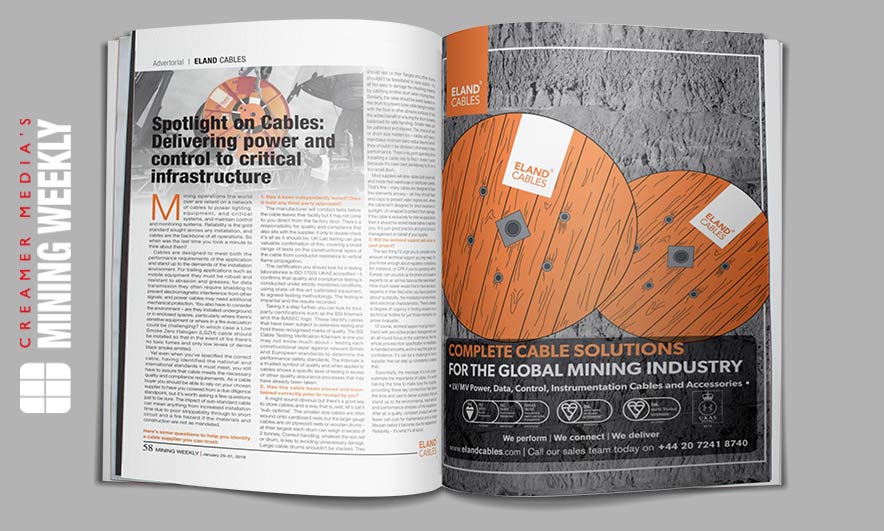 Mining operations the world over are reliant on a network of cables to power lighting, equipment, and critical systems, and maintain control and monitoring systems. Reliability is the gold standard sought across any installation, and cables are the backbone of all operations. So when was the last time you took a minute to think about them?
Cables are designed to meet both the performance requirements of the application and stand up to the demands of the installation environment. For trailing applications such as mobile equipment they must be robust and resistant to abrasion and greases; for data transmission they often require shielding to prevent electromagnetic interference from other signals; and power cables may need additional mechanical protection. You also have to consider the environment – are they installed underground or in enclosed spaces, particularly where there's sensitive equipment or where in a fire evacuation could be challenging? In which case a Low Smoke Zero Halogen (LSZH) cable should be installed so that in the event of fire there's no toxic fumes and only low levels of dense black smoke emitted.
Yet even when you've specified the correct cable, having identified the national and international standards it must meet, you still have to assure that cable meets the necessary quality and compliance requirements. As a cable buyer you should be able to rely on your chosen supplier to have you covered from a due diligence standpoint, but it's worth asking a few questions just to be sure. The impact of sub-standard cable can mean anything from increased installation time due to poor strippability through to short circuit and a fire hazard if the materials and construction are not as mandated.
Here's some questions to help you identify a cable supplier you can trust:
1. Has it been independently tested? Does it hold any third-party approvals?
The manufacturer will conduct tests before the cable leaves their facility but it may not come to you direct from the factory door. There's a responsibility for quality and compliance that also sits with the supplier, if only to double-check it's all as it should be. UK Lab testing can give valuable confirmation of this, covering a broad range of tests on the constructional layers of the cable from conductor resistance to vertical flame propagation.
The certification you should look for in testing laboratories is ISO 17025 UKAS accredited – it confirms that quality and compliance testing is conducted under strictly monitored conditions, using state-of-the-art calibrated equipment, to agreed testing methodology. The testing is impartial and the results recorded.
Taking it a step further, you can look for third-party certifications such as the BSI Kitemark and the BASEC logo. These identify cables that have been subject to extensive testing and hold these recognised marks of quality. The BSI Cable Testing Verification Kitemark is one you may not know much about – testing each constructional layer against relevant British and European standards to determine the performance safety standards. The Kitemark is a trusted symbol of quality and when applied to cables shows a specific level of testing in excess of other quality assurance processes that may have already been taken.
2. Has the cable been stored and maintained correctly prior to receipt by you?
It might sound obvious but there's a good way to store cables and a way that is, well, let's call it 'sub-optimal'. The smaller size cables are often wound onto cardboard reels but the larger gauge cables are on plywood reels or wooden drums – at their largest each drum can weigh in excess of 2 tonnes. Correct handling, whatever the size reel or drum, is key to avoiding unnecessary damage..
Large cable drums shouldn't be stacked. They should rest on their flanges and other drums shouldn't be tessellated to save space – it's all too easy to damage the sheathing material by catching another drum when moving them. Similarly, the cable should be evenly layered on the drum to prevent loose cable being in contact with the floor or other abrasive surfaces (it has the added benefit of ensuring the drum is evenly balanced for safe handling). Smaller reels can be palletised and stacked. The choice of reel or drum size matters too – cables will have a mandated minimum bend radius beyond which they shouldn't be stressed otherwise it risks performance. There's no point spending time installing a cable only to find it doesn't work because it's been bent excessively to fit on a too-small drum.
Most suppliers will store cables both externally and inside their warehouse or distribution centre. That's fine – many cables are designed to face the elements anyway – yet they should have end caps to prevent water ingress and, where the cable isn't designed for direct exposure to sunlight, UV wrapped to protect it from damage. If the cable is exclusively for internal applications then it should be stored inside before it reaches you. It's just good practice and good product management on behalf of your supplier.
3. Will the technical support add value to your project?
The last thing I'd urge you to consider is the amount of technical support you may need. Do you know enough about regulatory compliance for instance, or CPR if you're operating within Europe; can you pick up the phone and speak to experts on an ad-hoc basis as the need arises? How much easier would it be to have access to experts in their field when you have questions about suitability, the installation environment, and electrical characteristics. There's always a degree of urgency in finding answers so a technical hotline for just those moments can prove invaluable.
Of course, technical support must go hand-in-hand with pro-active project management and an all-round focus on the customer so that the whole process from specification to installation is handled smoothly and in a way that gives you confidence. It's can be a challenge to find a supplier that can step up consistently to deliver that.
Essentially, the message is to not underestimate the importance of cables. It's worth taking the time to make sure the supplier providing these key connections has taken the time and care to deliver a product that will stand up to the environmental, mechanical, and performance stresses of the installation. After all, a quality, compliant product will mean fewer call-outs for maintenance and a longer lifespan before it becomes due for replacement. Reliability – it's what it's all about.