How airfield lighting supports air traffic passenger growth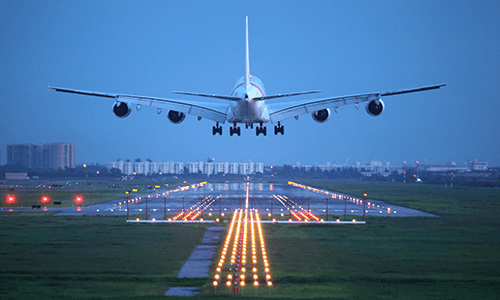 If you ask an airport what challenge they are focused on for the future, chances are they will say air traffic passenger growth. Passenger demand for air travel is growing rapidly, forcing airports and airlines to adapt more quickly than ever before. IATA forecasts passenger demand to double within the next 20 years. While increasing passenger numbers offers new opportunities, it also creates challenges to maintain safety and efficiency. Airfield lighting plays a key role in helping airports and airlines keep up.
Heathrow Airport, one of the world's busiest airspaces, is no exception, reporting record passenger numbers of 76 million in 2016, and outstanding growth in February this year of 5.27 million passengers (up 5.5% compared to the same time last year). Growth this rapid puts pressure on infrastructure and operations, with one of the biggest factors, of course, maintaining safety.
There are many ways to tackle passenger growth: airports are expanding terminals to meet the needs of passengers whilst airlines are adding larger aircraft to their fleet to handle greater numbers, meaning airports often need to adapt and update their infrastructure and operations to accommodate wider wingspans.
Airfield lighting plays a key role in airport infrastructure upgrades, particularly for safety and efficiency. It not only provides safety and navigational assistance to aircraft, it also helps them stay on schedule by allowing them to land in weather conditions that would otherwise cause delays and diversions. Playing such a crucial role in safe and efficient airport operations, it's vital that these systems receive optimal power through both primary and secondary circuit airfield lighting cable. As a company, we are recognised for providing expert technical support in this field which makes us the preferred supplier to many large EPCM companies around the world, working from the design stage providing assistance with technical specification, through to the supply and delivery of the cables and cable accessories themselves – often against tight timeframes.
It might seem like a small cog in the machine, but securing airfield lighting can increase the overall performance of the airport, affecting everything from scheduling to safety. An added challenge is coordinating these large-scale projects in often tight timeframes with minimal disruption to operations. For example, when working with the British Airports Authority, we were able to deliver a cable solution for ground power units and airfield lighting against a challenging and precise delivery schedule to accommodate the project's logistical requirements. Ensuring the co-ordinated supply of a wide range of cables, on a just-in-time basis to mitigate onsite storage and security risks, can be a logistical Rubix Cube, yet our customers are assured that whatever the project challenge we are committed to delivering on schedule.
Other projects further afield, such as our work on Namibe International Airport in Angola or the Dubai World Central Al Maktoum International Airport in Dubai, may require additional customs processes to expedite import, or use The Cable Lab®, our in-house cable testing lab holding ISO17025 UKAS accreditation, to provide impartial assessment over-and-above our normal rigorous QA processes to demonstrate compliance with all relevant national and industry standards. Others may require a customised cable owing to particular installation or application challenges – something our technical experts can design and have manufactured. It is this complete service, from concept to completion, that helps maintain project schedules and keeps airports and airlines working, thus avoiding delays that could further impact on the challenges of passenger growth.
"Our extensive experience working with airports, garnered over a number of years on projects around the world, helps airport build and expansion projects achieve their safety and efficiency goals. With more airports needing to secure their passenger growth in the future, Eland Cables is uniquely positioned to be able to assist with design and specification to ensure the right standards for safety and compliance are met" says Jean-Sébastien Pelland, Director of Eland Cables. "Our experience shows us to be a valuable partner to quality conscious organisations in heavily regulated and time-constrained industries and we're excited to be involved in further airport expansion projects."
As passenger demands continue to expand and evolve, airfield lighting will always be an important element to the safe and efficient operations for both airports and airlines - and Eland Cables will be ready to play its role in supporting passenger growth.