FAQ: What are the benefits of PVC insulated cables?
PVC (Polyvinyl chloride) is widely used in electrical cable construction for insulation, bedding and sheathing. It was the 1950s when PVC started to replace rubber insulated and sheathed cables in general household wiring due to its ease of processing. PVC is cost-effective and also has excellent ageing properties and typically exceeds a 25 to 30 year service life.
It's considered to be one of the most versatile of the common thermoplastics due to the fact that its properties can be easily modified - although PVC is inherently hard and rigid it is easily modified with plasticizers, stabilizers, lubricants and various other ingredients and fillers that aid processing and enhance various properties. It is also easy to process and recycle when used as a thermoplastic type.

Cable with a PVC insulation or sheathing is flame retardant, which is an important consideration for electric cables in most applications. PVC can be made resistant to a wide range of chemicals including oils, acids and alkalis, and is tough, durable and resistant to abrasion. The addition of various additives can improve its temperature range, typically from -40 to 105°C, as well as the resistance to sunlight, reduced smoke emission and improved water resistance.
As an insulation material cables often come down to a choice between XLPE vs PVC -  between a thermoplastic and a thermoset material. There are thermoset versions of PVC which are cross-linked, typically with electron beam technology but they are more expensive to use and so when specified they are typically in high-spec applications in industries such as defence and automotive. The thermoset or cross-linked PVC has improved temperature resistance, is tougher, and has a better dielectric strength, which means that a thinner coating or insulation layer can be applied making the overall cable dimension smaller.  

Call Sales on +44 (0)20 7241 8787
Click to Email Us We will reply within 3 hours
Technical Hotline +44 (0)20 7241 8500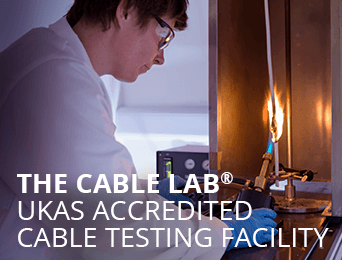 The Cable Lab®
UKAS-accredited specialist cable testing laboratory
The Cable Lab® our in-house cable testing facility, is UKAS-accredited to ISO 17025, which is the single most important standard for calibration and testing laboratories around the world. Accreditation to this international standard demonstrates our laboratory's technical competence and the accuracy of its results.
For our customers, it means peace of mind. They can have full confidence in the quality of our products and can demonstrate due diligence in selecting their cable supplier.
Our customers can also rely on the Cable Lab's services for an independent, objective and comprehensive quality assessment of cables procured from third parties.

About Eland Cables
Established in 1975, Eland Cables is a supplier of power, data, instrumentation and control cables and cable accessories to the world's most demanding industries and to some of its most prestigious projects. Our reputation is built on an unswerving focus on quality, technical expertise and customer service.
Quality
Our focus on quality has resulted in our in-house specialist cable testing facility securing the ISO 17025 accreditation. This certifies the competence, impartiality and performance capability of our laboratory and its evaluations. In turn, it means peace of mind for our customers with regard to the quality of the cables they source from us.

Expert tecHnical support
Our highly-qualified technical team is on hand to provide technical support with all aspects of cable selection, technical specification, regulatory requirements, and bespoke cable design and manufacture.

Complete Cable Solutions
We are a key contributor to projects in over 100 countries every year, adding value through comprehensive technical support, reliable logistics, innovative solutions, and a customer-centric approach.