Eland Cables launches BSI Kitemark approved cable range - Electrical Review Magazine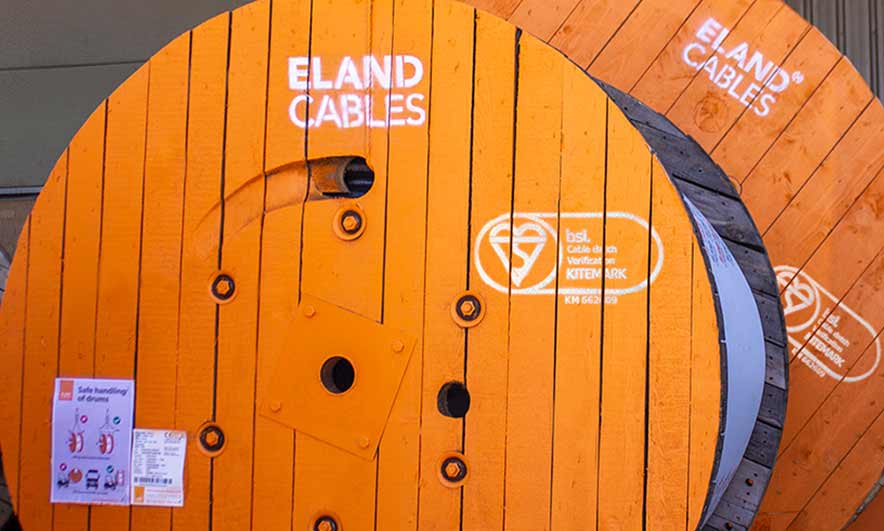 Veriflex® is a brand you will increasingly recognise as Eland Cables launches their own range of industrial automation cables, BSI Kitemark approved under a rigorous testing programme from the British Standards Institute.
SY, CY, YY, Servo, PUR and fieldbus cables make up the Veriflex® range, all made to exacting standards and placing emphasis on consistency across the construction, dimensional tolerances, sheath markings and RAL colours. The cables benefit from extended warranties, up from an industry-standard 12 months to 24 months for Low Smoke Zero Halogen cables and 36 months for PVC sheath cables; and the whole range is available for next-day UK delivery as standard from Eland Cables' extensive stockholding.
In itself, this is a compelling offering. It challenges the traditional lead-times of 4-7 days for UK customers using European control cables. Yet this range has another key differentiator: the cables have been BSI Kitemark approved.
A new benchmark
Described by BSI as "a new benchmark in cable compliance", the BSI Cable Batch Verification Kitemark sees cables extensively tested against British, European and international standards in a UKAS-accredited laboratory. It's an accreditation that has only been achieved by one company, Eland Cables, and sees their UKAS accredited ISO 17025 cable test facility undertake tests on every size and every core configuration of cables received into their distribution centre. 
Compliance is key
The market is increasingly aware of compliance and of the responsibilities throughout the supply chain to be able to demonstrate this. The BSI Cable Batch Verification Kitemark sees compliance determined by testing the individual components - the conductor, the insulation and other constructional layers – elements that are bound by British and European standards such as BS EN 60811-501 which sets out the test methods applied to cross-linked and thermoset insulation and sheath materials. This testing regime, and the Kitemark that is applied upon meeting these standards, gives comfort that they will perform as designed.
Backed by BSI
Paul Turner, Certification Technical Expert at BSI said: "As the first company to achieve the BSI Cable Batch Verification Kitemark, Eland Cables sets a new benchmark in cable compliance. The rigorous and extensive testing programme they undertake in their UKAS laboratory, under our ongoing surveillance, tests the cables to British and international standards for key safety criteria. The BSI Kitemark is one of the most recognised symbols of quality and safety and by certifying their cables against the scheme, Eland Cables can demonstrate that its cables meet the highest standards."
A new brand – a new industry standard?
At this early stage, Veriflex® is already being specified by name in large-scale projects for quality-conscious organisations. Supplied with no price premium – what Eland Cables describe as 'affordable excellence' – it looks as though Veriflex® and Kitemark approved cables is well on the way to being a core part of their portfolio and yet another way of emphasising their commitment to quality and compliance.
For more information on the BSI Cable Batch Verification Kitemark and the Veriflex® range of cables, please visit elandcables.com