Veriflex Interface BUS Cable
The Interface Bus cable is part of the Veriflex cable portfolio, designed with precision for control and fieldbus applications. The Interface cable is unusual shape - trapezoidal with a lip - with the conductors in a flat configuration.
Interface Bus Cable Specification
Interface BUS cables work with Actuator Sensor Interfaces - one of the network protocols for automated solutions. The cable controls simple binary on/off actions for applications including actuators, sensors, analogue inputs and valve position sensors. The format sees one master terminal controlling a number of 'slave' terminals.
The Interface Bus cable can be used in association with other fieldbus network protocols including DeviceNet, Profinet and Profibus.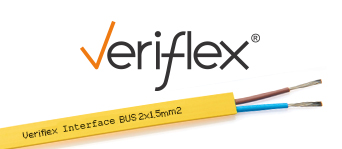 The cable is only available as a 2-core cables, available in yellow or black sheathing with blue and brown core colours.
Veriflex Interface Bus testing
Our Interface Bus cable is, like the rest of the Veriflex range, extensively tested in our UKAS accredited laboratory prior to release for sale. This rigorous testing regime is conducted under the BSI Cable Testing Kitemark programme and sees all Veriflex Interface bus cables marked as BSI Kitemark approved. It provides valuable confidence that this cable meets the quality, compliance and performance requirements of your BUS installation.
Construction Table
| | Veriflex Interface BUS Cable |
| --- | --- |
| VOLTAGE | 300V |
| CONDUCTOR | Class 6 Extra Flexible Tinned Copper |
| INSULATION | TPE (Thermoplastic Elastomer) |
| OUTER SHEATH | TPE (Thermoplastic Elastomer) |
Veriflex Interface BUS Cable
| Product name | Part No | Cores | Nominal cross-sectional area (mm²) | Sheath colour | Length (m) | |
| --- | --- | --- | --- | --- | --- | --- |
| Veriflex Interface BUS Cable | VBUASI0203TPYW0 | 2 | 1.5 | Yellow | | |
| Veriflex Interface BUS Cable | VBUASI0203TPBK0 | 2 | 1.2 | Black | | |